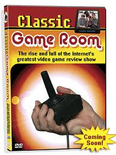 Welcome to the official, Lord Karnage approved Classic Game Room Wiki!Edit
We have 30 articles since October 3, 2010. Founded by 1patch.
The Classic Game Room Wiki is a wiki dedicated to the Classic Game Room Empire, which includes: The Game Room, Classic Game Room HD, CGR Undertow, CGR News, CGR Trailers, and CGR Gameplay.
What is the Classic Game Room Empire? Find out here!
Latest activity
Edit
Ad blocker interference detected!
Wikia is a free-to-use site that makes money from advertising. We have a modified experience for viewers using ad blockers

Wikia is not accessible if you've made further modifications. Remove the custom ad blocker rule(s) and the page will load as expected.